Kids Learning English Words Books Easy Talk
Kids Learning English Words Books Easy Talk
INQUIRY
Description Application Purchase process FAQ
According to research, most learners are visual learners. Therefor, livey illustrations along with other language learning materials are the first choice to optmize the result and make learning more intriguing.
It is designed specifically for beginners to increase their interests and motivations to learn English. This series is categorized by parts of speech for learners to understand the usage instantly. Many of the most common English vocabularies and sentences are compiled by professional English teachers as examples combining with cartoon illustrations and related words or phrases as a highly efficient way to acquire new vocabulary. Just a tap away, the audio function of the talking pen facilitates the congnitive learning experiences of the learners to listen to standard pronunciation at any time.
The pocketbook design enables to learn anywhere they go, With eyes, hands, ears, mouth and mind all present at the same time, it can be ensured that this method is the most effective way to learn.
We hope that all English beginners are able to join us to experience the wonderful future having a good command of English could bring us.
Details of products:
1.one set=8 books + one talking pen
2. Book size: 15.6x14cm package size: 33x20x4.2cm
3. Weight: 1.5kg/set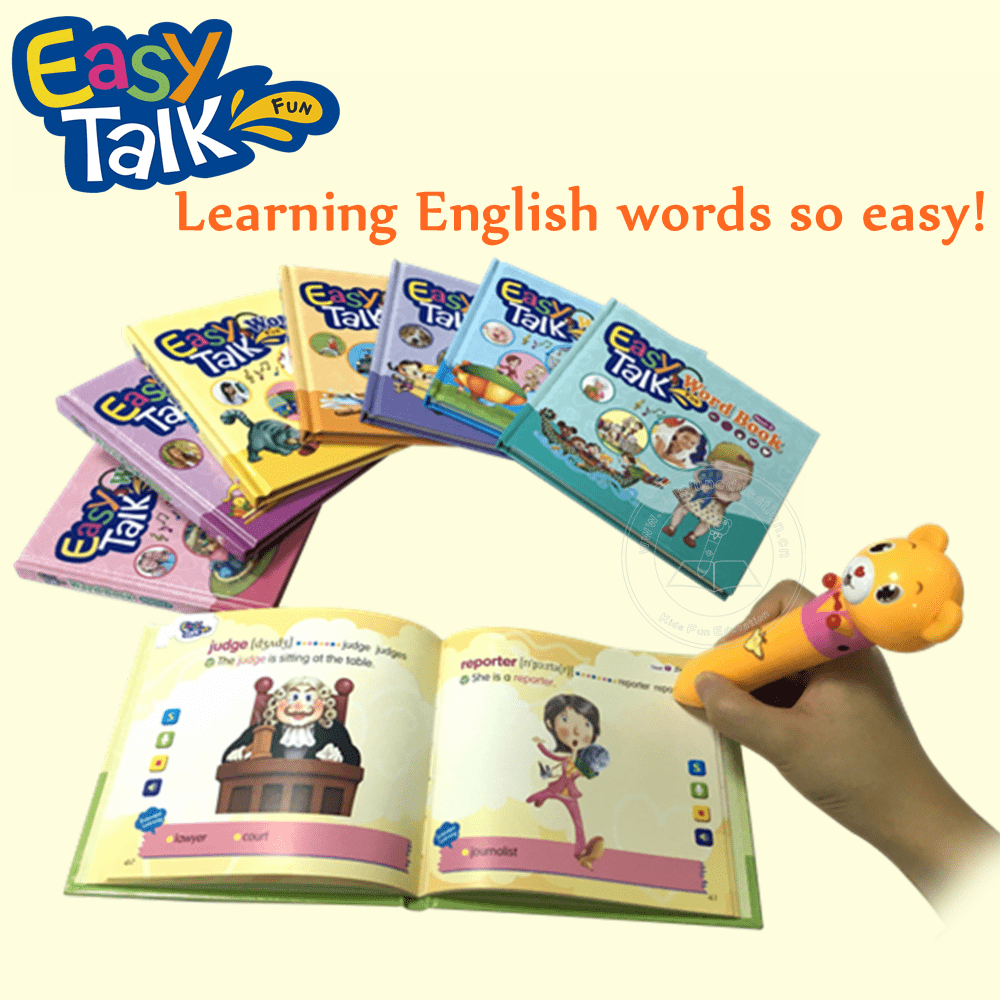 Features of books
1. Easy Talk word book total 8 books to learn words with cartoon illustration.
2. Learning words with eyes, hands, ears, mouth and mind.
3. Including words learning, KK phonics learning, related words learning, sample sentences learning four parts.
4. Verb: past tense/ present participle/past participle
Noun:Singular/Pluarl
Adjective: comparative/the hightest
Features of the Talking Pen
1. The voice is Native American English audio pronunciation, correctly, clearly and appealingly.
2. The pen is portable, and convenient to store or take.
3. Real-man recording gives more fun to kids 'learning process.
4. Quick respond, it "speaks" as you touch the page.
5. Cute shape, vivid colors of the pen can be very attractive to kids.
6. The pen is made of ABS material, tasteless, nonpoisonous and nonradioactive
7. OID 3.0 technology supports multifunction.
8. High identification, large capacity makes the pen powerful.
9. The pen is power-saving; it'll switch off when in standby for 5 minutes.
10. It allows storing and playing MP3 files and supporting TF cards to extend memory for MP3 or new voices for advanced learning.
11. You can test your English as you like by recording voice or reading after the pen.
1. It's for more than 3 years old kids learning English words and phonics with talking pen.
2. Talking pen and audio books is educational gift for kids who can't pay attention on study, good helper for work busy and non-standard spoken English parents.
1. The MOQ is 3000 sets and negotiable.
2. The payment way we accept is: Bank Transfer, Western Union, and PayPal.
Q: What language of our books and talking pen?
A: Our pen supports any language. At present, our books are in English and Chinese. If you would like to do your own language, we can do OEM for you, you need translate our books contents into your language and record corresponding voice.
Q: What is the advantage of your book?
A: Vivid picture and story will attract the kids' attention on study. Sweet music and chant will make learning easier. DIY step can motivate kids' infinite imagination. Drama will link kids with family together and kids can gain more fun, knowledge and kinship from it.
Q: What is the advantage of your pen?
A: Our pen is portable, safe and simple to use for kids. It is standard American pronunciation and real-man recording. Good speaker quantity is no any harm for kids' ears. We use the eco-friendly materials for the talking pen and it is crushproof. Parents won't worry about kids' English anymore; the talking pen will be your great helper.
Q: How about the principle of your talking pen?
A: Our pen use the OID (object identify) technology, the book is different from the normal book; it had added the hidden codes (like QR codes). There is a camera on the pen head, when it touch the book, it will identify the codes and find the corresponding audio files, then it can speak out the contents.